New Jeep Shop Online 2020 Jeep Wrangler from Logansport IN in Wabash IN near Fort Wayne
Shop Online 2020 Jeep Wrangler from Logansport IN
View Inventory


Vehicle Overview
If you're the type of person who would rather spend a weekend camping than spend a weekend hitting a downtown play at the theater, then your 2020 Jeep Wrangler from Logansport would like to cordially introduce itself to you in all the best of ways. Our online 2020 Jeep Wrangler inventory is back in full effect with all the trims you can think of available online from Wabash Logansport Marion Kokomo. It's incredibly easy to shop Wabash Jeep online from work home or phone. Get quotes, calculate payments, or even apply for financing online from Wabash Logansport Marion Kokomo.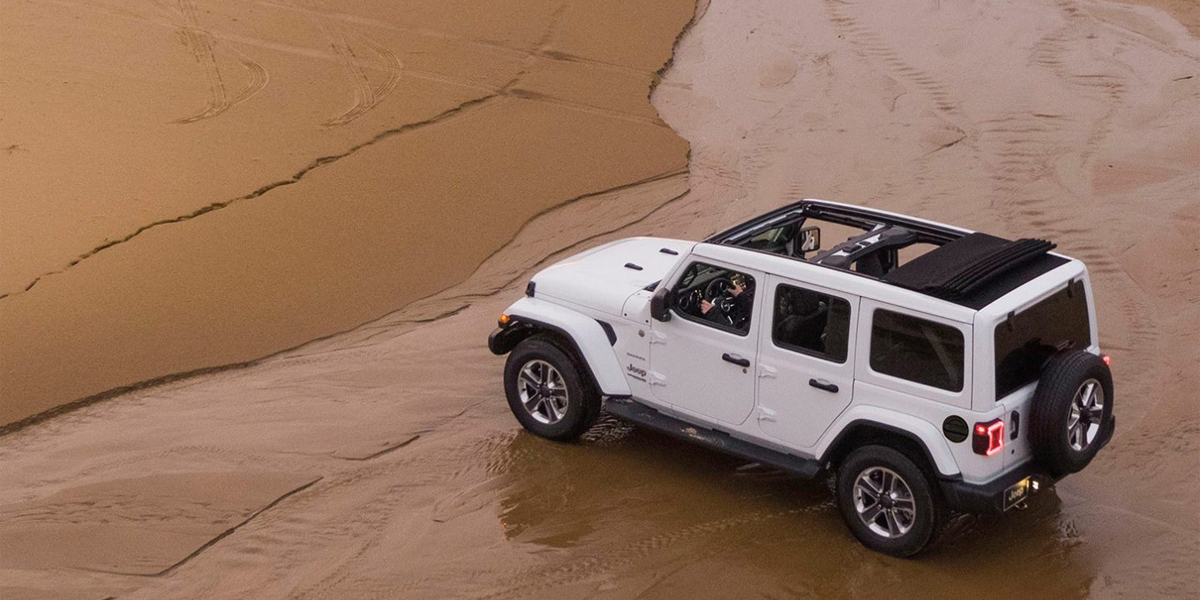 Exterior – 2020 Jeep Wrangler
They call the new 2020 Wrangler the "next generation icon," and it certainly looks the part. With brilliant LED headlight options and a rigid drive that derives from its heavy duty frame, you get an off-road machine that never fails to visually impress. A Sky One Touch Power Top or Freedom Top gives you an amazing variety of choice on configuring your roof. You've also got Soft Top options and manual effortless zipper options that allow you to create the look you want on any given day. Then there's the stunning array of wheels to choose from. The Black and Tan gets 17-inch Machined Graphite Crystal wheels; your Sahara's 18-inch polished wheels with polished face are dazzling as well. There's just so much to choose from. Ask us about all your exterior options, including wheel choices.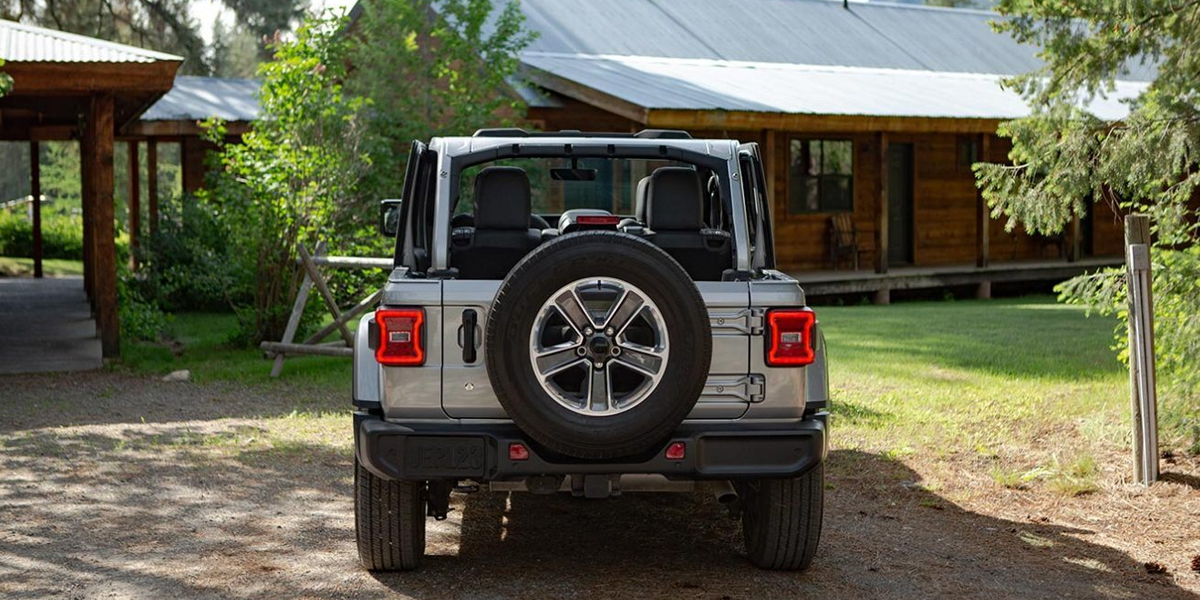 Interior – 2020 Jeep Wrangler near Logansport IN
A new age icon needs a new age interior, and that's exactly what Jeep gives the 2020 Wrangler. Its cloth and leather seat trims options come in elegant colors like Black and Black and Dark Saddle. Premium cloth options are also available for those of you who want a nice middle of the road option. The 9-speaker Alpine premium audio system also gives you a massive amount of bass and treble for a crisp, clear audio experience that resonates. And with a wash out interior, you're going to have more fun than you've ever had in your life cleaning a vehicle. Water vents in the floor allow you to just hose that monster out and go about your business.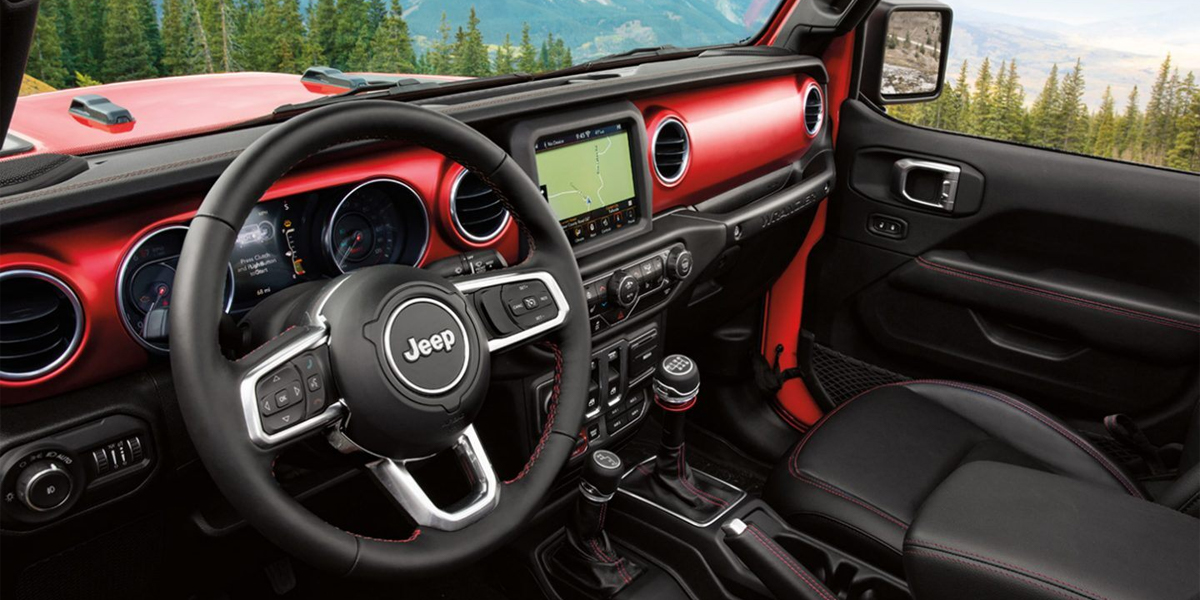 Mechanical – Wrangler specs near Logansport
The Wrangler has several engines to choose from. A 285 horsepower V6 with eTorque nets you that mild hybrid system that saves you money on fuel. You'll also have a turbocharged 2.0L engine that's good for 270 horsepower. And when the 3.0 turbodiesel got there, boy did the Wrangler finally come into its own as a finely tune machined. Ask us about that option when you call. If you're a diesel guy or girl, you won't want to miss out on owning a diesel Wrangler.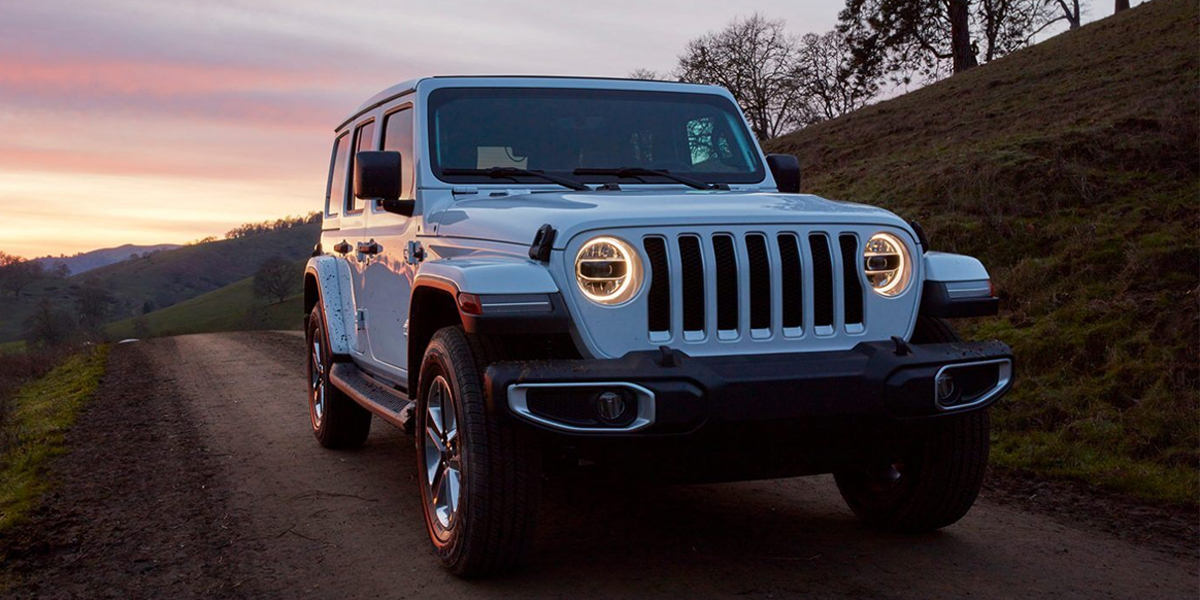 Another great reason to shop Wabash Jeep online for a Wrangler is the amazing safety menu on all Wranglers. When you shop work home or phone, you'll get Wrangler that's equipped with advanced construction in every area that keeps you safe. With high strength materials and aerodynamic design, with a rigid, specially constructed chassis, the Jeep Wrangler is designed to perform but with every safety measure thrown into the mix. You get key camera angles on your 7-inch touchscreen infotainment system, rear cross traffic alert and front and rear parking sensors for a smoother parking experience. There are advanced safety packages we highly recommend you add onto your Jeep Wrangler, although you can leave those off and just get the amazing features already added to standard packages. With so much there from the start, there's very little left off, and many models get heavy duty brakes, off-road tires, and off-road suspensions, including front and rear stabilizer bars, to improve both performance and safety.
Key Features
The new 2020 Jeep Wrangler from Logansport features an extremely economical V6 mild hybrid engine that ramps up the savings while at the same time giving you that spirited boost drive on the trails. Your Wrangler is still at heart a Wrangler: it's more square than other SUVs, and we wouldn't have it any other way. Its spiffy, military grade look continues to be one of our favorite designs in history. Still, there are brand new touches this year that you'll notice.
Contact Us Online
The 2020 Wrangler promises to be the single most exciting off-road release of the year. While Jeep has other stellar off-road vehicles, none is quite as iconic or spirited as the Wrangler. It has been Jeep's staple off-road machine for over three decades now, and the Wrangler hasn't had a bad year since. This iconic Jeep model will clean up again this year thanks to a gorgeous exterior design, versatile configurations, and plenty of interior amenities that make for big fun. You can buy it here from us in Logansport Indiana! Just get in touch with us today or apply for financing right from our website. It's quick and easy.