New RAM Research 2019 RAM 1500 near Lafayette IN in Wabash IN near Fort Wayne
Research 2019 RAM 1500 near Lafayette IN
Vehicle Overview
The new 2019 RAM 1500 truck generates a lot of excitement! This renowned brand already possesses a well-deserved reputation as an outstanding workhorse. If you've considered searching for a truck this year a short drive from Lafayette, you'll want to learn more about this pickup. Available in nine trim packages, it seats up to six people. A RAM truck offers the power required to transport heavy cargo, haul bulky loads and pull trailers or boats across challenging terrain. It enjoys widespread popularity in this part of Indiana.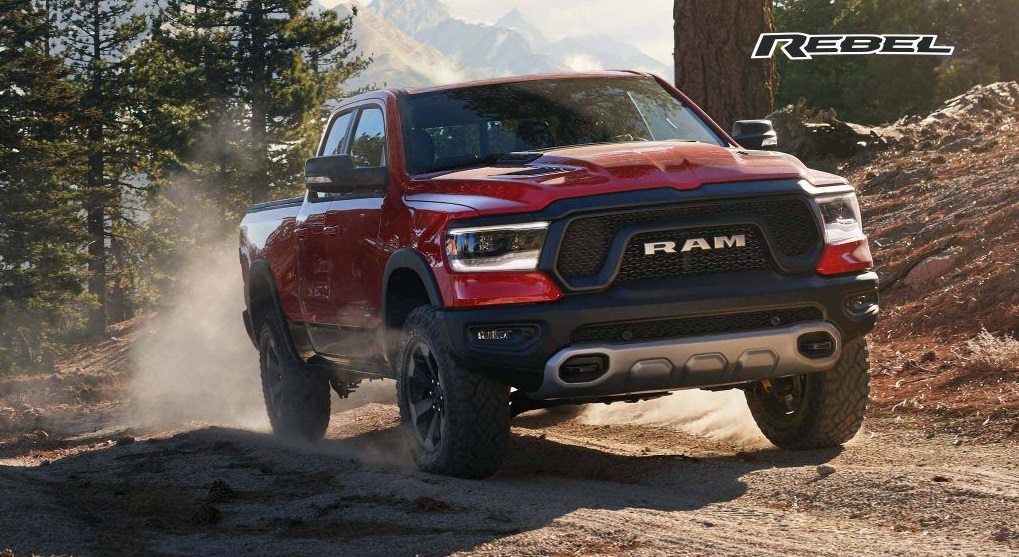 Exterior – 2019 RAM 1500
When you visit our showroom just a short drive from Lafayette, you'll also have a wonderful opportunity to review different trim packages and paint color selections. The 1500 presents a bold, exceedingly handsome profile. A skilled design team carefully engineered its fascia, wheels, and hood contours. Your friends and neighbors will notice this truck's magnificent exterior. Customers choose the truck bed in lengths of 5'7″, 6'4″, or 8′. In addition to many other available options, they may select available upgrades (such as side-steps to promote easier cabin entry during wet weather conditions and protective exterior coatings to enhance truck bed rust-resistance). If you plan on using your new RAM pickup to transport tools, you may find it helpful to select the available exterior cargo box system to store loose items securely, for example. Ask us to show you this available feature during your test drive of 2019 RAM 1500 near Lafayette IN.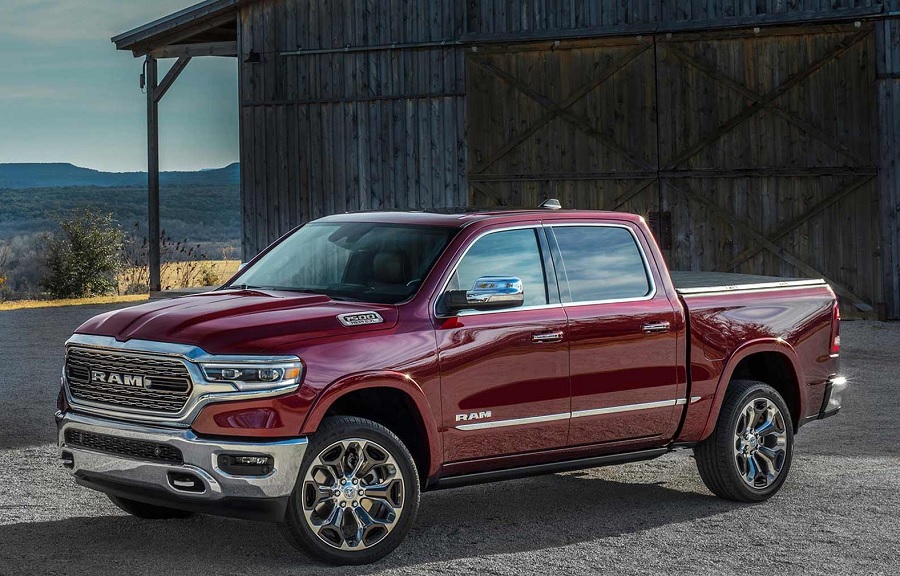 Interior – 2019 RAM 1500
In the past, most people probably did not associate pickups with plush interior designing. Yet the 2019 models of the RAM 1500 truck may change that perception. You'll discover this vehicle delivers a remarkably comfortable cabin! When you research 2019 RAM 1500 near Lafayette IN take a look at the available cab selections: Regular, Crew or Quad. Then spend a few moments exploring the interior of your preferred cab selection. Feel the rich texture of the well-padded, finely stitched seats. The manufacturer has worked hard to create a trendy interior design. Slip behind the steering wheel. You'll notice the intelligent layout of the driving command console instrument display panel. When you steer this truck, you'll access information effortlessly. A central available Uconnect touch screen display assists you in remaining Internet connected even during lengthy excursions. You can select an available Bose stereo sound system and an available satellite radio service, too. Your local dealership frequently offers Lafayette area specials; ask us to add your name to our email list so you'll receive updates about available features.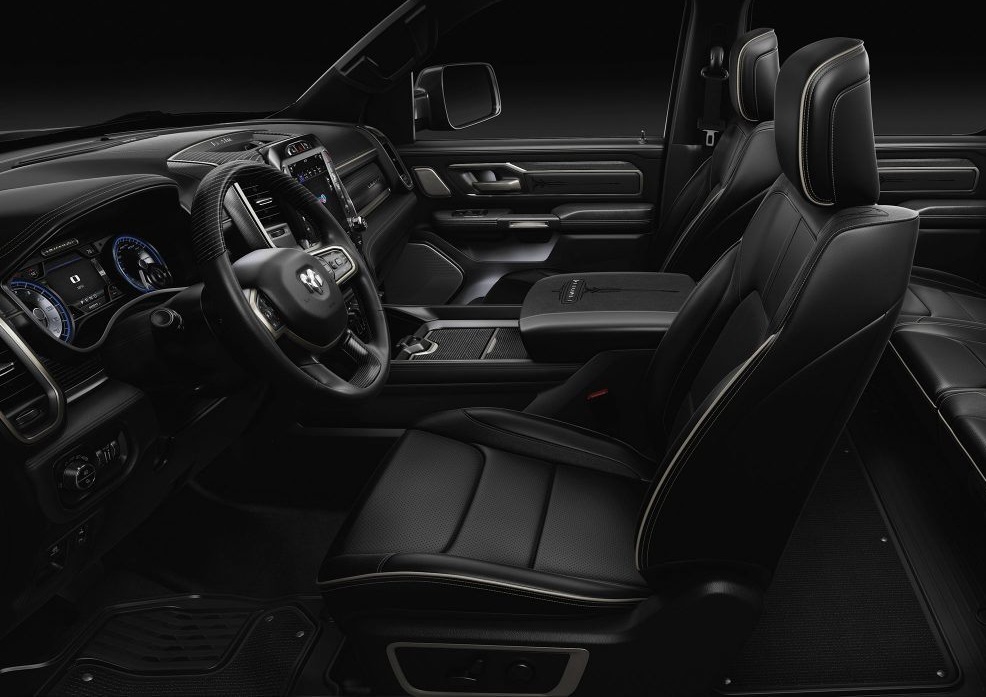 Mechanical – RAM 1500 specs near Lafayette
The 1500 supplies precision engineered automotive systems. The manufacturer has produced this brand for decades, and its popularity has increased as more customers have appreciated the durability and high quality of its mechanical components. From a state-of-the-art electronic stability control system to its well-designed suspension and axles, the pickup reflects careful attention to engineering. Ask our team serving Lafayette Indiana and outlying areas to help research any questions you have about this truck's complex systems. We'd like to become your preferred source for information about both this brand and available Lafayette area specials.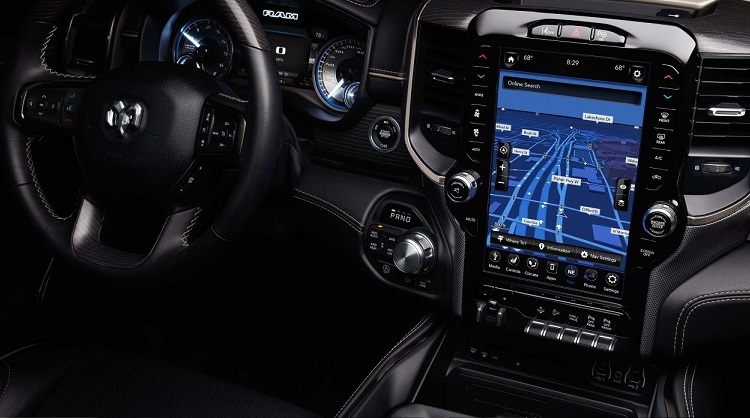 Powertrain – RAM 1500 specs near Lafayette IN
We'll also assist you in matching your goals for your truck with available powertrain selections. Different trims offer variable standard engine selections. For example, the manufacturer furnishes both a 3.6L V6 VVT engine and an even more powerful 5.7L V8 HEMI engine (a standard feature in the Laramie). Choosing the best available powertrain components for your purposes frequently hinges upon matching the engine to the vehicle's most frequent daily assignments. Do you plan on using your new truck to tow heavy loads? Or will it primarily transport passengers and light cargo in urban areas? If you share your goals for your RAM 1500 truck with us, we'll try and help you evaluate and compare available powertrain options. We want to ensure you obtain the information you require to select a pickup capable of meeting or exceeding your expectations!
Safety – 2019 RAM 1500 dealer
This brand already includes extensive safety features. These include air bags, strong seat belts, and a reliable system for securing child safety seats. In addition, the manufacturer has developed built-in and available high tech systems to assist drivers. Ask your dealership serving Lafayette Indiana to highlight some of this innovative technology during your test drive.
Visit Your RAM Dealership Serving Lafayette Indiana
Resolve now to visit us soon to see the exciting 2019 RAM 1500 near Lafayette IN! You owe it to yourself to experience driving this remarkable pick up under local roadway conditions. With its versatility as a transportation, hauling and towing vehicle, it offers the capability to perform a variety of tough tasks easily. Located just a short drive from Lafayette, we'll make sure you receive current information about the 2019 trim packages. When you sign up to receive emails about Lafayette area specials, simply share your preferences for your next vehicle. Do you need a specific available feature or option? Do you strongly favor a particular paint color or specific trim? We'll do our best to notify you quickly if we become aware of a 1500 in our inventory meeting your requirements! Let us know now about your interest in this brand so we can serve you more effectively.