New RAM Kokomo Area 2019 Ram 1500 in Wabash IN near Fort Wayne
Kokomo Area 2019 Ram 1500
Vehicle Overview
Wabash Auto is a Certified RAM dealership. Our dealership has been serving Kokomo Marion Wabash IN for decades now. At Wabash RAM our customers receive some of the best prices on vehicles. Our sales associates have been trained to help customers get a bang for their buck! Our RAM dealership has several Kokomo area specials available all year round!
It is an exciting time here at Wabash Auto. The reason for this is because we now have the 2019 RAM 1500 on our lot. The 2019 RAM 1500 is a great midsize utility truck. The 2019 1500 can be used for rigorous family camping trips, a long day's work, or even a simple trip to the grocery store! Regardless of what you need the 1500 for, this vehicle will certainly meet your needs!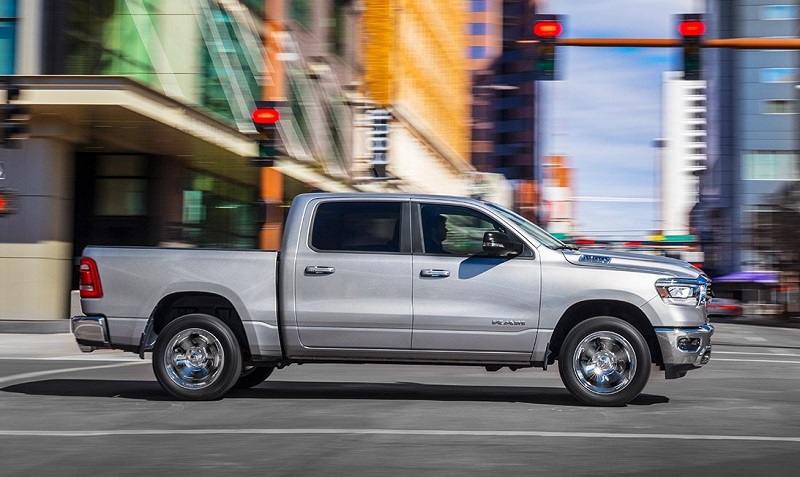 Exterior – 2019 RAM 1500
The exterior of the 1500 has been changed significantly. The 1500 now has a more modern appearance. In the past, the grille of the 1500 trucks were very bulky and masculine. This year, the grille of the 1500 is more sophisticated and sleek. In addition, the bulky headlights have also been replaced with more modest LED head lights. In all, the exterior of the 1500 is phenomenal. The updated slender appearance makes it easier for drivers to park and view blind spots. The 1500 also has a new and improved new frame! This year, the stylish pick-up truck has a frame that is made from high quality steel. Even though the new frame is stronger than frames from previous models, this steel frame is lighter. The lighter frame gives drivers the ability to tow heavier loads. If you need to upgrade your, 1500 we can help you save at Wabash RAM. Our dealership has Kokomo area specials that are outstanding!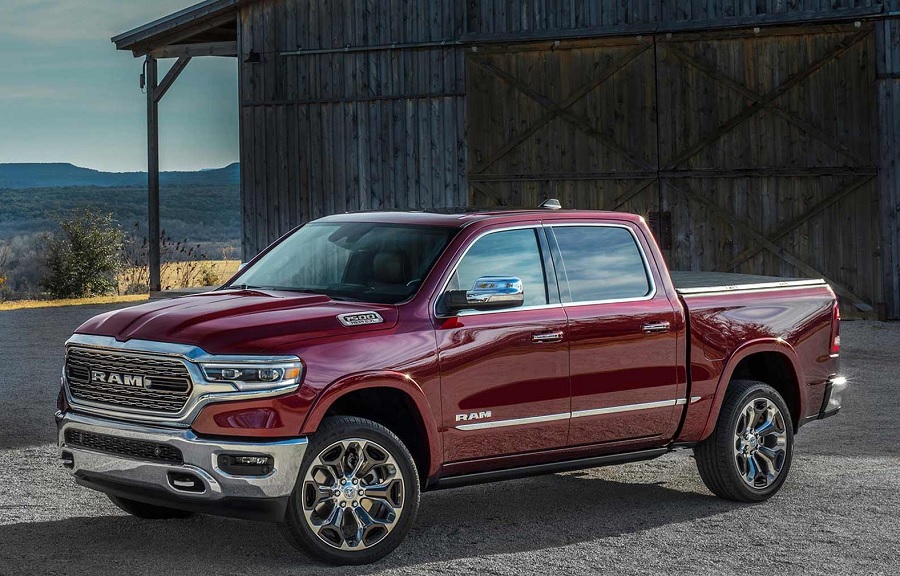 Interior – 2019 RAM 1500
The 1500 has 6 trim levels that you can choose from. Each trim level has a specialty themed interior. If you choose the base model, it will come standard with cloth seats. The 1500 can seat 4-5 passengers, depending on which trim is chosen. 6-7 foot passengers are able to enjoy long trips in the 1500 without feeling crammed. Riders in the front and rear seats have an exceptional amount of head and leg room. The rear seats are able to recline. Moreover, if you are in need of extra storage, you can store cargo behind the rear seating area. The console for the 1500 is large enough to storage cell phones, and maybe even a few small tablets.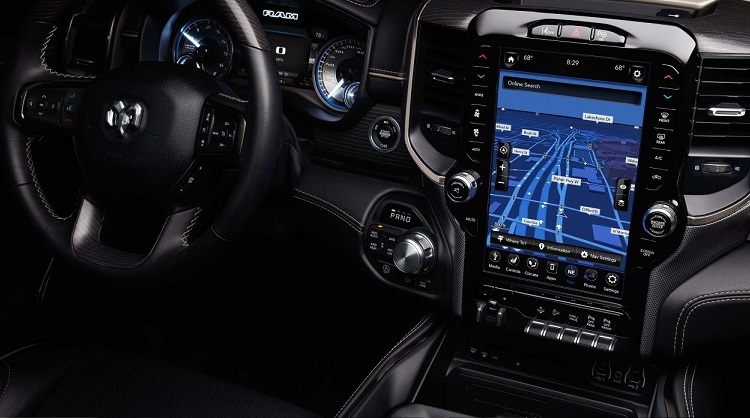 Mechanical – RAM 1500 specs near Kokomo
Overall, the 1500 is a fairly simple vehicle to maintain. The 2019 1500 was released in two engine types this year. Both engines are able to accept gasoline. The 1500 is able to accept regular fuel in its tank. However, you are welcomed to also use higher fuel grades in your 1500. Using a higher fuel grade won't hurt your pick-up truck, but it could improve you pick-up's overall driving performance. Once you purchase your 2019 1500, your vehicle will come standard with a 3 year, 36,000 mile warranty. If any mechanical issues fail with the vehicle during this time period, it will be covered by the manufacture. Also, please be sure to keep up with your vehicle's scheduled maintenance. When your vehicle is ready to be maintenance, come save at Wabash RAM. Our service department has been serving Kokomo Marion Wabash IN with quality vehicle repairs for many years now.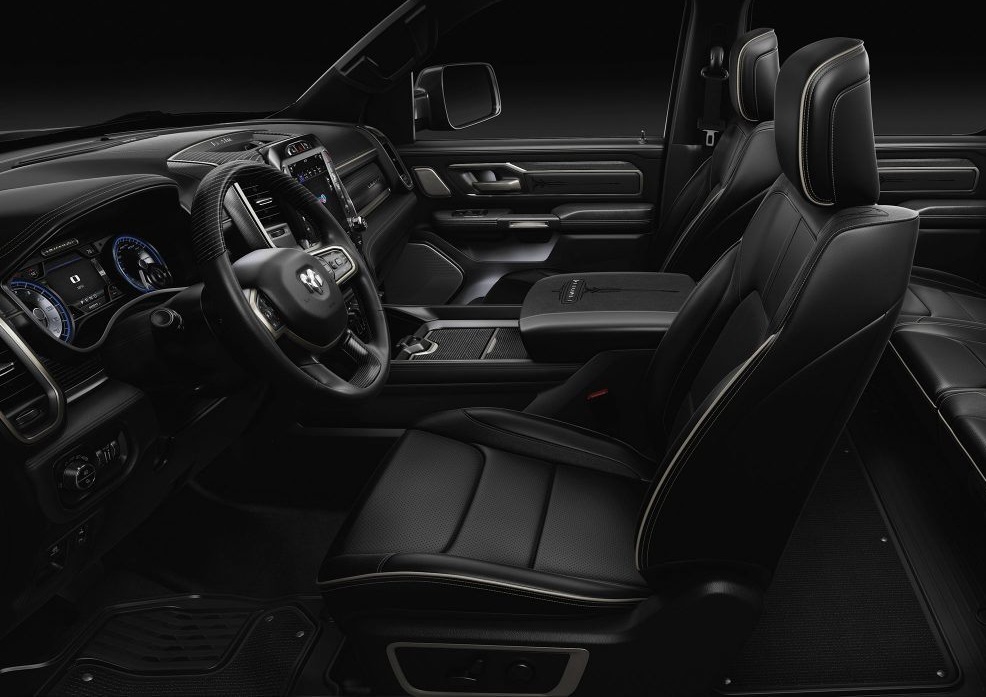 Powertrain – RAM 1500 specs near Kokomo IN
As mentioned before, the 2019 1500 comes in two different engine types this year. The base 1500 comes standard with a 3.6 liter V6 engine. If you are looking for more horsepower and torque, then you would need to upgrade your engine. The upgraded engine comes with a 5.7 liter V8 engine. Both engines are powered by an 8 speed automatic transmission. These vehicles receive up to 22 highway miles per gallon. The 1500's powertrain will be covered under warranty for 5 years or 60,000 miles, whichever comes first. If you encounter problems with your vehicle's powertrain, please come save at Wabash RAM.
Safety – 2019 RAM 1500 dealer
At Wabash Auto, our goal is to provide our customers with the safest vehicles. Safety is very important here for us at Wabash Auto. A vehicle can be very dangerous, which is why we go above and beyond to ensure we have safe vehicles. At Wabash Auto, we have been able to maintain our reputation by serving Kokomo Marion Wabash IN with safe vehicles! The 1500 comes standard with functioning seat belts for each passenger in the vehicle. In addition to this, the truck also has lane departure warnings, guided parking, smart cruise control, traction control, a back-up camera, and large brakes. With all these safety features, the 1500 will definitely keep you safe!
If you are looking for a 2019 Ram 1500 near Kokomo, you should stop by Wabash Auto. Wabash Auto is a leader in providing Kokomo area specials! The 2019 RAM 1500 is a phenomenal pick-up truck. If you have any questions or concerns in regards to a 2019 Ram 1500 near Kokomo, please give us a call: (260) 563-3156. If you are in the area, you are also welcomed to stop walk into our dealership: 1972 S Wabash St, Wabash, IN 46992. Once you come into the dealership you will be able to test drive the 2019 Ram 1500 near Kokomo. We hope to see you soon! Our staff members are eager to assist you!