New Jeep Kokomo Area 2019 Jeep Grand Cherokee in Wabash IN near Fort Wayne
Kokomo Area 2019 Jeep Grand Cherokee
Vehicle Overview
The 2019 Jeep Grand Cherokee definitely has the variability in carrying goods and people that makes crossovers so appealing. But this new 2019 Jeep also has a tradition of off-roading to uphold. As this summary shows, combining these two qualities produced a must-have vehicle that offers a few other things as well.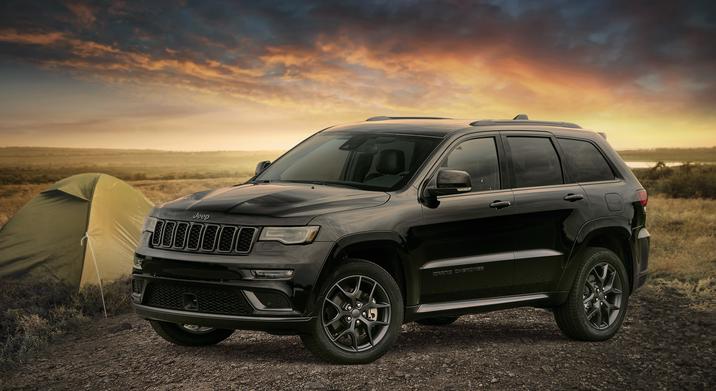 Exterior – 2019 Jeep Grand Cherokee
The 2019 Jeep Grand Cherokee near Kokomo presents a basic crossover form with enough creases and furrows to make it stylish without becoming too busy. A roofline less curved than those on most of its rivals creates a sense of ample interior room. Available in 5 colors including Diamond Black, Walnut Brown, Velvet Red, Bright White and Billet Silver, the 8.6 inches of clearance below offer a strong hint at what this vehicle can do once it's off the pavement. Likewise, a stout nose section fronted by the recognizable segmented upper grille found on most Jeep vehicles provides clues to serious power within. The upper grille is flanked by halogen headlights on the introductory trims but are switched to bi-xenon HID lights beginning with the Limited X edition. All trims feature LED taillights.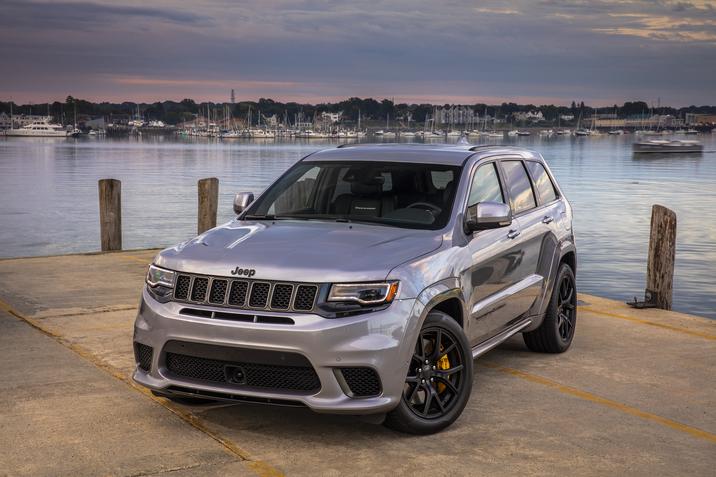 Interior – Jeep Grand Cherokee near Kokomo IN
The 2019 Grand Cherokee models, Laredo, Laredo E, Upland, Altitude, Limited, Limited X, Overland, High Altitude, Summit, Trailhawk, SRT, and Trackhawk, all depend on the same capable body. Supplying wide margins for both people and things, this crossover design has 39.9 inches of headroom and 40.3 inches of legroom for first-row occupants while second-row commuters enjoy 39.2 inches above and 38.6 inches below. With the back seat up, there's 36.3 cubic feet available for merchandise, but folding it out of the way creates 68.3 cubic feet. Open space doesn't mean boring space with embellishments like a 7-inch touchscreen with Apple CarPlay, Android Auto, and Bluetooth compatibility, AM/FM sound through 6 speakers, a 12-volt outlet, a pair of USB ports, and bi-zone air conditioning in even the most basic Laredo edition. Things only get better with the Laredo E throwing in an 8-way powered driver's seat, and the Upland edition including a 115-volt outlet, motorized liftgate, and heated front seats. An 8.4-inch touchscreen appears in the Altitude, the Limited X adds leather seating, and the Overland heats up the rear seats, boosts sound to 506 watts, and places a sunroof overhead. Finally, contact Wabash Jeep to find out how the Summit increases audio to 825 watts delivered through 19 speakers.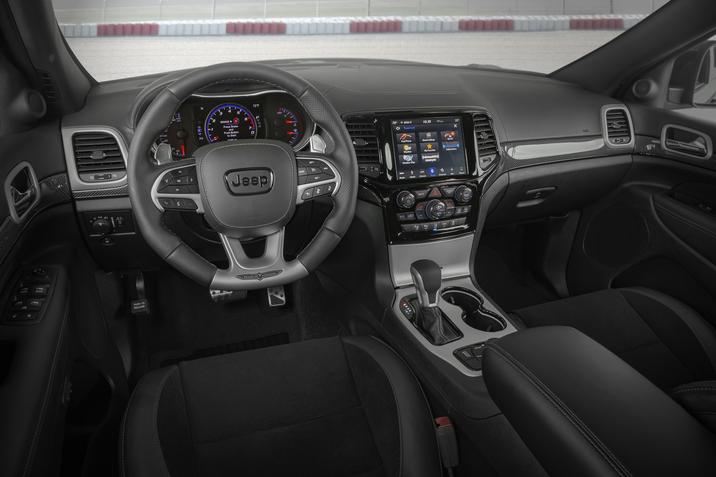 Powertrain – Jeep Grand Cherokee specs near Kokomo IN
Retaining the ability to traverse rock-strewn trails means a lot muscular engine choices for this new 2019 Jeep where even the modest 3.6-liter V6 shoots 295 horsepower and 260 lb-ft of torque while reaching 18 mpg city and 25 mpg highway in tandem with an 8-speed automatic transmission that's paired with all other selections here. The 360 horses projected by the 5.7-liter V8 offering get the 2019 Jeep Grand Cherokee near Kokomo up even steeper hills and provide 14 mpg city and 22 mpg highway. The 6.4-liter V8 blasts 475 horsepower. It gets 13 mpg city and 19 mpg highway, but it also makes short work of the steepest hills. Contact Wabash Jeep to discover how the supercharged 6.2-liter V8 in the Grand Cherokee Trackhawk whips up 707 horses that hit 60 mph from a standstill in only 3.5 seconds. With a light weight of just 3 liters, the V6 turbodiesel would be expected to reach 22 mpg city and 30 mpg highway with 240 horsepower. Surprisingly, it also possesses 420 lb-ft of torque that give the Grand Cherokee serving Kokomo Fort Wayne Peru Indiana its top towing power of 7,400 lbs.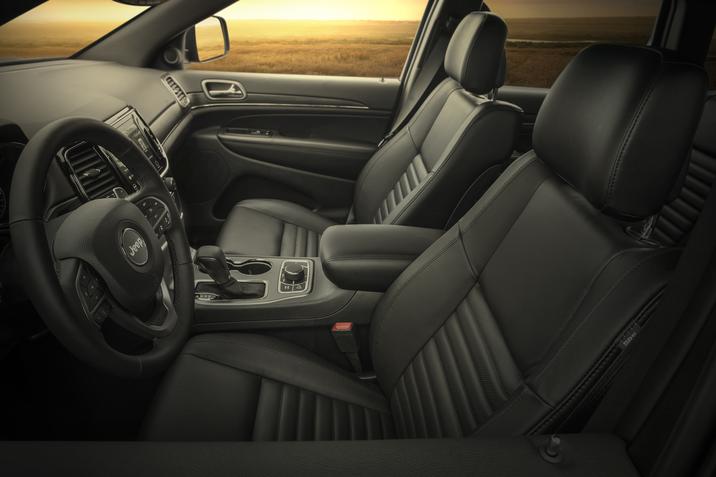 Mechanical – Jeep Grand Cherokee specs near Kokomo
The 2019 Jeep Grand Cherokee near Kokomo relies on lots electric motors to make driving a pleasure, but it also possesses a 160-amp alternator to handle it all. Among its motorized features are power locks and windows, push-button seat adjustments, a sunroof, and even a motorized tailgate. There's also electric power steering in this new 2019 Jeep to keep things under control.
Safety – 2019 Jeep Grand Cherokee dealer
Over the years, the Grand Cherokee serving Kokomo Fort Wayne Peru Indiana has transformed from body-on-frame assemblage to unibody construction that incorporates collision-absorbing front and rear crumple zones. Buttressing this feature are items like airbags, stability and traction control, antilock brakes, and a rearview camera. Active protection like blind spot monitoring with rear cross-traffic warnings normally comes with upper trims on most vehicles, but it's standard on all 2019 Jeep Grand Cherokee models. Frontal collision warning with self-braking adds even greater safety to the High Altitude, Summit, SRT, and Trackhawk editions. Contact Wabash Jeep to learn more about LaneSense, the ability of the vehicle to re-center itself when drifting out of it lane, that's included on these models and optional on the Limited, Limited X, and Overland versions.
Everything in One Package
While other crossovers have abandoned many of their more rugged characteristics for domestic qualities like comfort and economical performance, the 2019 Jeep Grand Cherokee offers all of it in full. On top of all this, it can even operate as a muscle car. Experiencing this all-in-one vehicle is as easy as stopping by our dealership serving Kokomo Fort Wayne Peru Indiana today for a test run.