New Ram 2021 Ram 2500 near Fort Wayne IN in Wabash IN near Fort Wayne
2021 Ram 2500 near Fort Wayne IN
View Inventory


Vehicle Overview
When it comes to heavy-duty hauling and towing, trucks like the 2500 have reached an inspiring level of evolutionary capability. These powerful trucks can haul and tow like no other, and for 2021, they're now as impressive inside as they are under the hood. So, if you need a highly capable powerhouse of a truck, the new 2500 lineup is definitely worth looking into. Plus, with the new Ram lineup, you won't have to sacrifice comfort and luxury to gain access to H-D functionality. For 2021, Ram pickups have the best interiors in their respective classes, with ample technology and an array of premium features to pick from.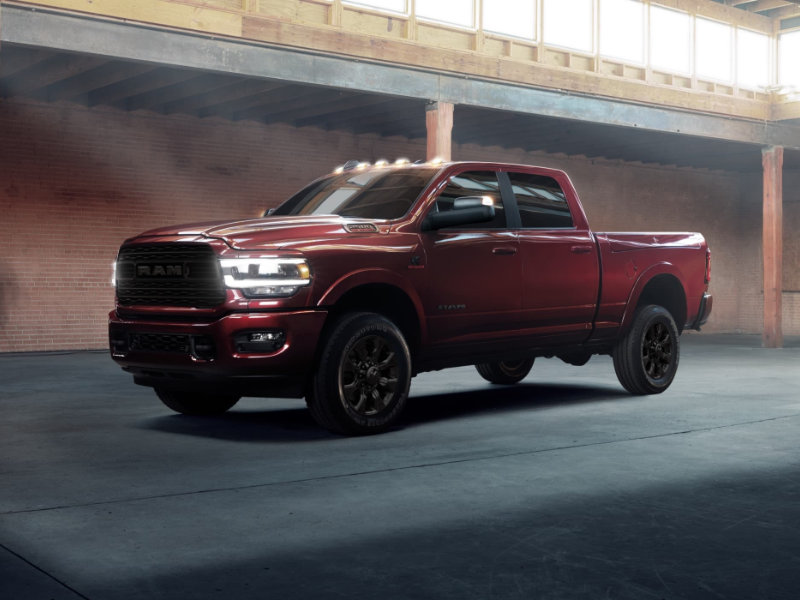 Exterior – 2021 Ram 2500
This pickup also has an attractive and newly updated exterior. With refined contouring, a streamlined body, and attention to detail from bumper to bed, this truck drips with swagger and charm. For 2021, you'll be able to select from an array of stunning paint colors and add-ons like side steps are also available. This truck has an elegantly rugged design with new LED headlights, an updated grille, and wide fenders and bumpers that fit beautifully with the rest of the truck to give it an aerodynamic flowing look. All in all, this is a stunning heavy-duty pickup inside, outside, and under the hood.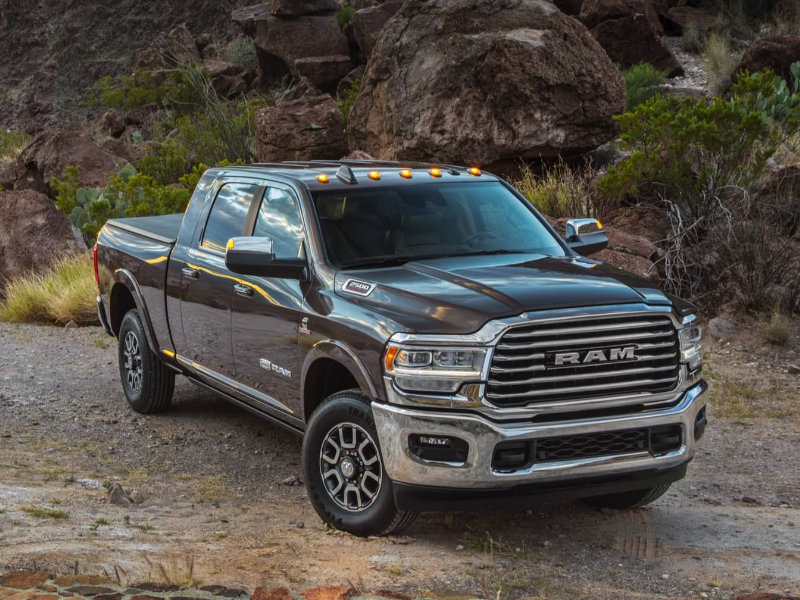 Interior – 2021 Ram 2500 near Fort Wayne IN
While the 2500 Ram is easily one of the most powerful heavy-duty pickups out there, it's also extremely refined inside. In the cabin, you'll notice premium materials, an array of handy driver assistance features, and more tech than you'll know what to do with. For example, the Ram 2500 comes with an available 12.0-inch touchscreen infotainment system for 2021. This massive touchscreen display is not only innovative, but it's also intuitive and easy to use. This is the kind of display you'd expect to see in a Tesla! Yet, here it is, in the luxurious cabin of the 2021 Ram pickup. You'll also get Apple CarPlay, Android Auto, Bluetooth, Wi-Fi, and much more. Leather upholstery and wood accents are available in certain trims and heated and cooled seats make long drives a pleasure. Additionally, you'll be able to choose from various cab styles, including the gigantic Mega Cab, which has tons of space and is extremely stylish. The Power Wagon is a particularly impressive truck as well. The 2021 Power Wagon masterfully balances off-road capability with interior comfort. Finally, the ride quality of the 2021 Ram H-D 2500 is also superior. Acoustic glass and noise cancellation give you a silent and tranquil driving experience.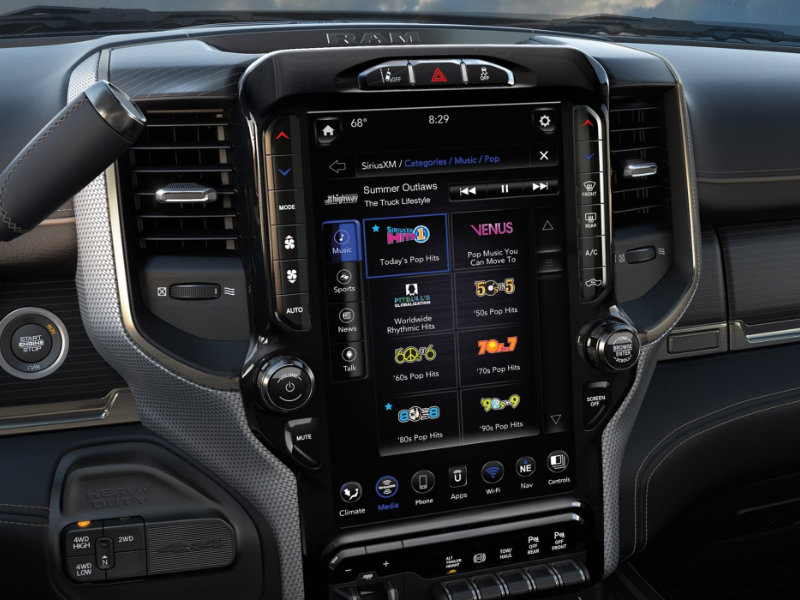 Mechanical – 2500 specs near Fort Wayne
When you pop the hood of the 2500, the engine you see will depend on which trim and configuration you select. There are certainly plenty of choices available for drivers in 2021! In fact, the selection is so extensive that the 2021 Ram has been rated as one of the most highly configurable pickups around. Even in the base model, you will get a powerful gas-powered engine with a 6.4-liter V-8 that gives you zippy acceleration, mid-range muscle, and pairs with a smooth-shifting 8-speed automatic transmission. For 2021, the Ram 2500's tow rating is over 19,000 pounds. You'll also get a maximum payload of 4,500 pounds. The Cummins diesel engine is extremely impressive and an air suspension system is also available. By the way, the optional Cummins diesel generates an awe-inspiring 1,000 lb-ft of torque! For off-road capability, the Power Wagon is a great choice. This truck deploys an ingenious suspension system with disconnecting anti-roll bars and a 360-degree camera system.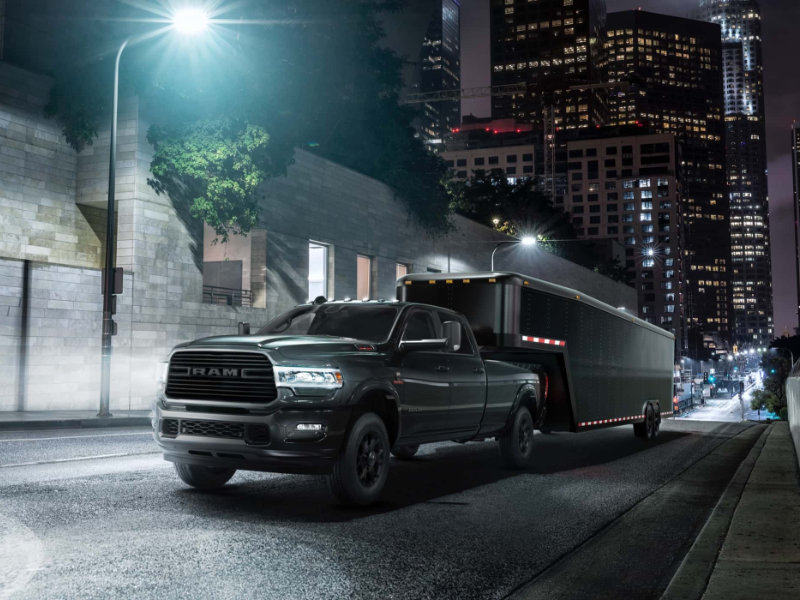 Powertrain – Ram 2500 specs near Fort Wayne IN
Ram has been working hard to stay ahead of the curve with their warranty coverage. In addition to all of the class, charm, rugged power, and interior style, the 2021 Ram lineup comes with dependable powertrain warranty coverage. The Diesel Engine Powertrain Warranty covers you for five years or up to 100,000 miles on the road! There are also limited warranties available, as well as specific powertrain warranty for gas-powered engines.
Safety – 2021 Ram 2500 dealer
Also, you can select from an array of safety packages for 2021 Ram pickups. If you choose a towing package, you'll get even more safety features. Available safety systems include blind-spot monitoring, automatic braking, rear cross-traffic alerts, adaptive cruise control, and more. The safety features you'll get will depend on the Ram truck you choose within the 2500 model year lineup. All trims come with various available safety packages, however. To learn more about the driver assistance and safety packages you can equip your Ram with, contact the experts at our dealership.
If the 2021 2500 sounds like the truck for your needs, we can help! At Wabash Valley Ram, we can walk you through this pickup's configurations, trim levels, equipment packages, and more. Our skilled team of Ram enthusiasts is ready to help you find your perfect pickup today! Contact us to learn more.