New Jeep 2021 Jeep Wrangler 4xe Trim Levels near Fort Wayne IN in Wabash IN near Fort Wayne
2021 Jeep Wrangler 4xe Trim Levels near Fort Wayne IN
View Inventory


The 2021 Jeep Wrangler 4xe offers a stunning combination of efficient driving and unrelenting off-road cruising. Serving Fort Wayne Wabash Logansport Indiana, Wabash Jeep offers this all-new SUV in trim levels. This Trail Rated model extracts up to 375 horsepower and 470 pound-feet of torque from a plug-in hybrid powertrain, which is compatible with two patented 4×4 drive systems.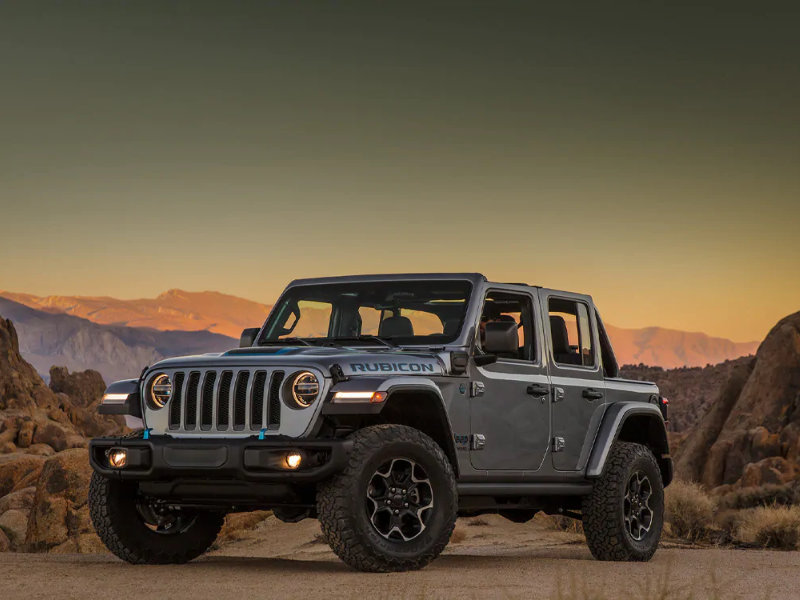 Sahara Trim – Jeep Dealer serving Fort Wayne IN
Are you interested in learning about the standard features on the 2021 Jeep Wrangler 4xe trim levels? Check out the base Sahara edition. Displacing 2.0 liters, a four-cylinder engine block with a turbocharged unit is installed by default on this entry-level model. An electric motor is mounted on top of the turbo engine for enhanced performance without any delays. Another electric motor is mounted on top of the TorqueFlite automatic transmission system that offers a maximum of eight gear sequences. Generating 400 peak volts, a lithium-ion battery pack is a major component of the plug-in hybrid powertrain. Employing Nickel Manganese Cobalt reactions, the 96-cell Li-ion battery stores up to 17 kWh of usable electrical energy for instant deployment as needed. Installed under the vehicle's underbody, the powerful battery pack has a waterproof seal for reliable off-road performance. In fact, this PHEV Jeep SUV is versatile enough to ford through 30 inches of water. For its powerful platform, the 2021 Jeep Wrangler 4xe Sahara offers a class-leading acceleration of 0 to 60 MPH in 6 seconds. By default, this all-new SUV runs on the Hybrid Mode, which extracts power from the turbo engine, motors and Li-ion battery. If you switch to the Electric Mode, combustion will come to a complete stop under hood.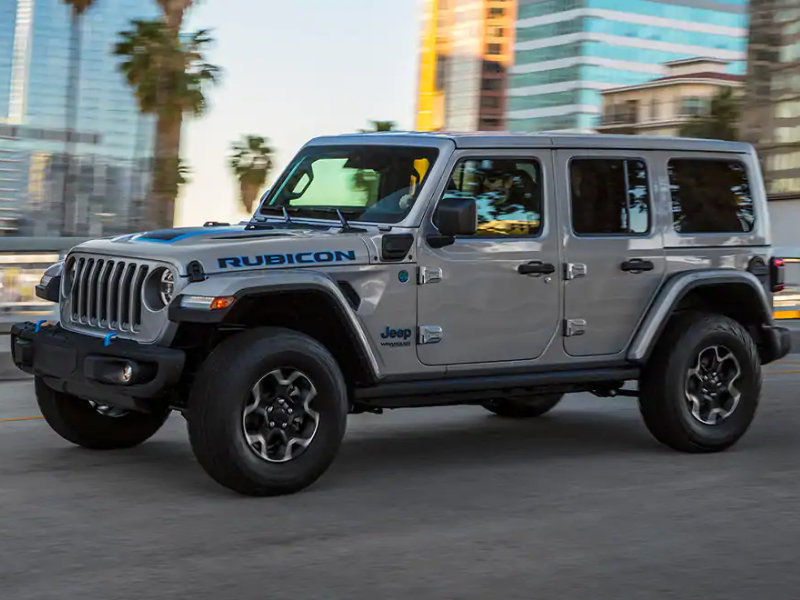 This mode offers a 25-mile driving range with zero emissions. The E-Save Mode mainly taps into mechanical power from the turbo engine. This mode reduces the potential for unexpected depletion of any stored electricity in the battery. You can enjoy a 400-mile trip on a full gas tank and fully charged battery pack. The 2021 Wrangler 4xe Sahara employs the Max Regeneration technology, which creates deceleration without engaging the brake pedal. However, you still need to engage the brake pedal to bring the vehicle to a full stop on the road. If you plug this PHEV SUV into a 240-volt outlet, expect to wait 2 hours for a complete recharge of the Li-ion battery. You must utilize a compatible Level 2 Charger for such a relatively short charging time. Otherwise, a 120-volt power outlet recharges the battery in 12 hours through a Level 1 Charger. The Wrangle 4xe Sahara has other advanced mechanical technologies that improve off-road performance, like the Selec-Trac 4×4 drive system with a two-speed transfer case. This full-time drivetrain is paired with the Dana 44 axles for optimum traction on rough terrains. Installed in the center stack, the Uconnect 4C NAV infotainment system gives you lots of options for entertainment and guidance. You can manage the Hybrid Electric Pages on the 8.4-inch touch screen. Some other premium apps in the Uconnect suite include Android Auto, Apple CarPlay, Bluetooth and 4G LTE Wi-Fi.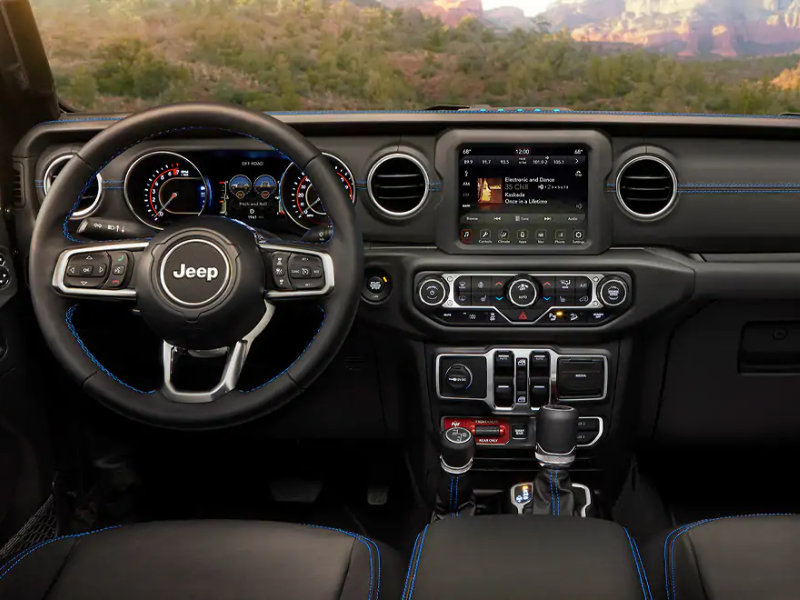 Rubicon Trim – Jeep Wrangler 4xe
Serving Fort Wayne Wabash Logansport Indiana, we provide official information on the 2021 Jeep Wrangler 4xe Rubicon. This signature trim is equipped with durable tires that have a diameter of 33.0 inches for maximum traction. Powered by the Rock-Trac technology, a highly dynamic 4×4 drive system is installed on this versatile edition. Wabash Jeep reveals the stunning specifications of this exclusive drivetrain, such as a crawl ratio of slightly more than 77:1. A transfer case with a two-speed configuration can shift the gearbox into a 4:1 ratio for smooth cruising at low speeds. Approaching rough terrains at a 44-degree angle, the Wrangler 4xe Rubicon is surely the most capable model among all trim levels on the lineup. Clearing the ground by nearly 11 inches, this robust Jeep SUV also has a breakover angle of just less than 36 degrees. Surf Blue decorative accents enhance the spacious cabin of this efficient vehicle. Such a color is also integrated into the car's exterior badges and decals. Additionally, the Wrangler 4xe Rubicon has multiple tow hooks that are painted in the Lagoon Blue finish.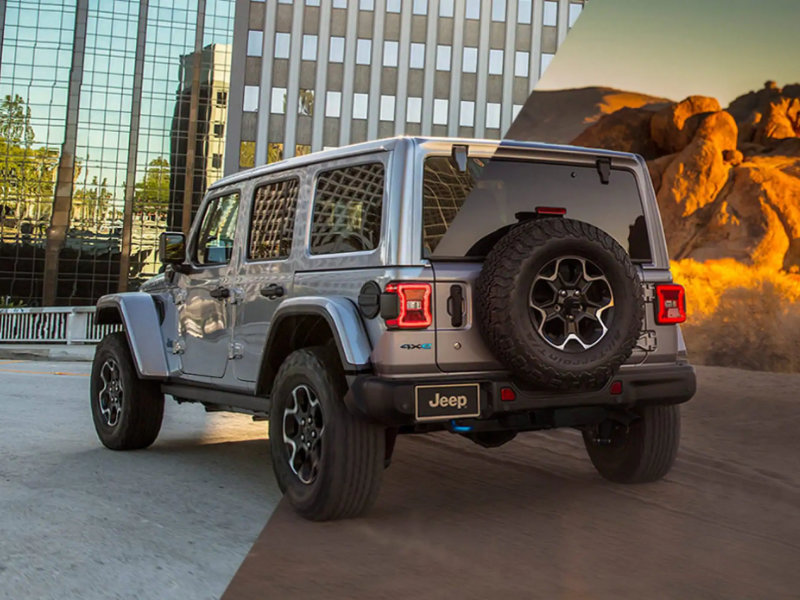 High Altitude Trim – 2021 Jeep Wrangler 4xe dealer
This high-ranking Wrangler 4xe model has black-painted wheels that measure 20 inches in diameter. The durable fender flares blend in nicely with the exterior paint of the body. You'll also enjoy the High Altitude's premium interior technologies, such as a sound system that's designed by the Alpine brand. Connected to SiriusXM Satellite Radio, the patented audio system includes a total of nine speakers. Covered in genuine leather with quilted outlines, the front seats provide good ergonomics for your adventures.
Serving Fort Wayne Wabash Logansport Indiana, Wabash Jeep offers official information on the 2021 Jeep Wrangler 4xe trim levels. We invite you for a test drive in this efficient SUV that comes in three editions.