New RAM 2019 RAM 1500 near Fort Wayne IN in Wabash, IN near Fort Wayne
2019 RAM 1500 near Fort Wayne IN
Vehicle Overview
The 1500 pickup has always been a powerhouse of a truck. It's designed with power, performance, and capability in mind. For the 2019 model, RAM has taken all of the great features that the 1500 is known for and pushed it to its limits. This year's model is one of the most dramatic redesigns the signature line has seen in decades. It's been overhauled to lose design features that harken back the past and includes new stylings to pave the way for the future. If you're interested in getting a 2019 RAM 1500 near Fort Wayne IN, you can save at Wabash RAM. We're dedicated to serving Fort Wayne Indiana drivers. We'll give you a grand tour of the new lineup and show you all of the great features that the 2019 RAM 1500 has to offer.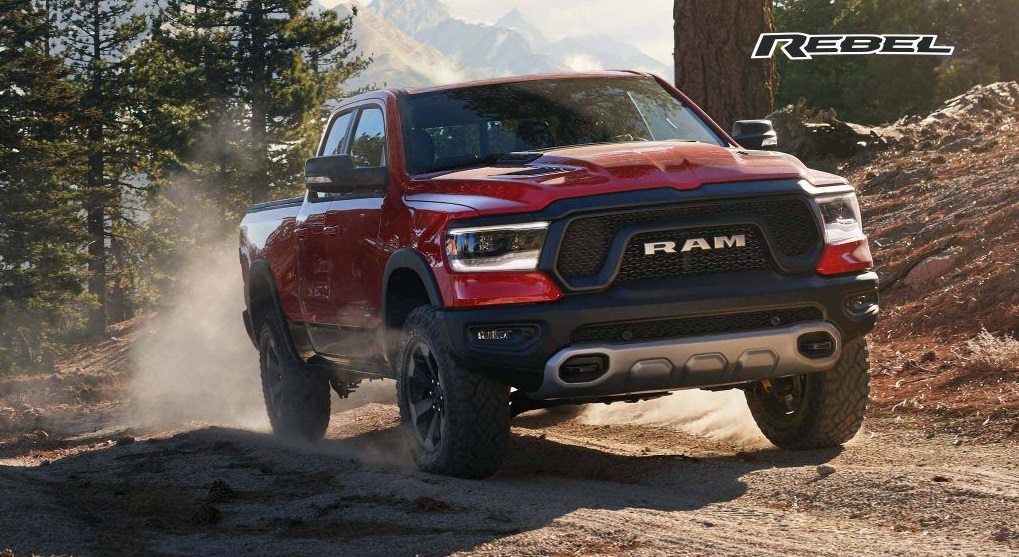 Exterior – 2019 RAM 1500
One of the most noticeable differences you'll see when you're looking at a 2019 RAM 1500 near Fort Wayne IN is the grille. The brand has ditched the signature crosshair grille for a brand-new design. The prominent grille utilizes active shutters to enhance engine performance. There's also a built-in splitter than automatically lowers once you get up to 35 MPH. The body of the truck has slight improvements that can make a big difference on the road. The hood has lines that can push air away from the windshield for better aerodynamics. Even the bed saw a change for 2019. The bedsides have been raised an inch and a half and a subtle spoiler is built into the tailgate for less drag as you drive. See these unique changes for yourself and learn more about our Fort Wayne area specials by visiting our dealership in Wabash.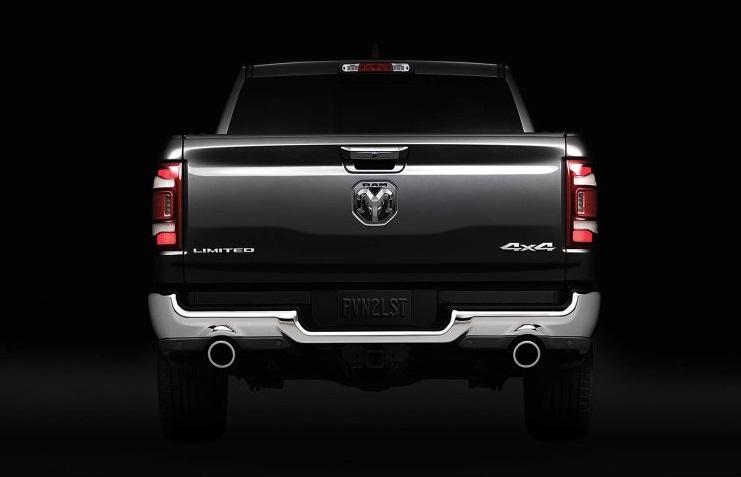 Interior – RAM 1500 near Fort Wayne IN
The inside of the 1500 has been changed to keep up with the needs of the modern driver. Despite the rugged nature of the 1500, the inside is sleek and luxurious. Hand-stitched leather seats are available alongside real wood trim panels. The front of the cabin has twice as much storage as previous models thanks to the center console that can be customized to your needs. To help keep all of your essential electronics charged, you can have up to 5 USB ports installed throughout the front and back seats. For crew-cab builds, the rear seats have been modified to allow more room. They offer 45.2 inches of legroom. The 2019 RAM 1500 is also available with heated front and rear seats, a panoramic sunroof that gives everyone a clear view of the surroundings, and seats with eight degrees of recline. When comes to music and information, the 1500 has you covered. A 5-inch touch screen display comes standard on Tradesman, HFE, Big Horn, and Revel trim levels. It includes the UConnect 3 infotainment center. For the Longhorn and Limited builds, an 8.4-inch screen is used with the UConnect 4 system. The final infotainment option is a massive 12-inch screen with UConnect 4. It's customizable to fit your needs and is fully compatible with Apple CarPlay and Android Auto. Stop by our dealership to learn more about the numerous interior options. You can save at Wabash RAM thanks to our Fort Wayne area specials.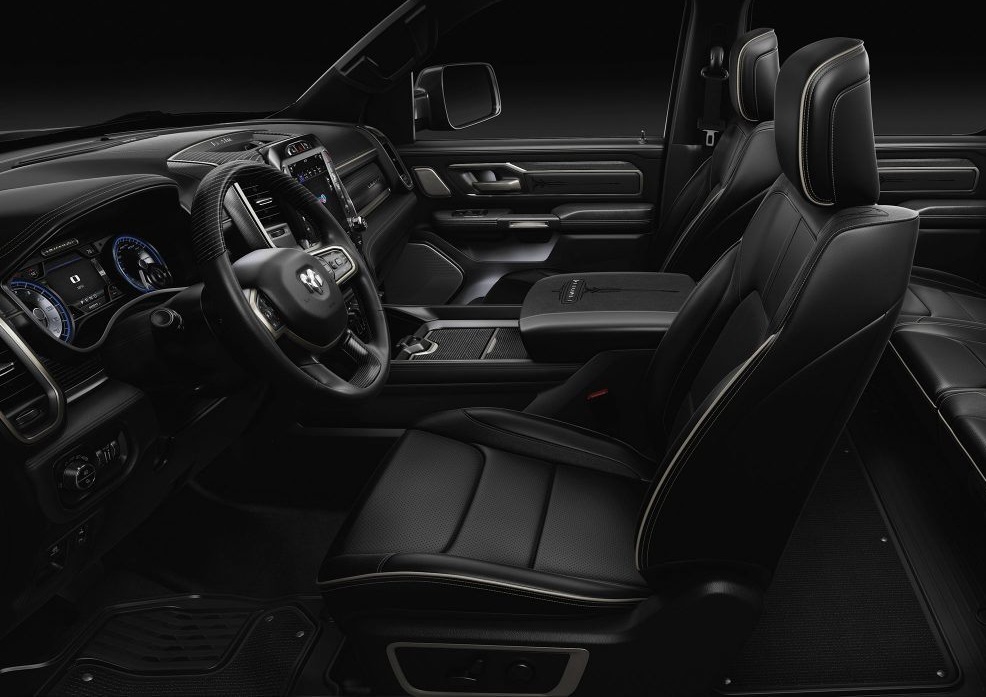 Mechanical – RAM 1500 specs in Indiana
RAM has modified the chassis to help improve performance in any condition. Various components have been enhanced to bring the overall weight of the 1500 down. The chassis uses high-strength steel and a ladder-style frame. This design improves rigidity while keeping the weight low. The frame alone is about 100 pounds lighter than the previous model. Even more weight has been removed thanks to an electric parking brake and electrically-assisted steering system. Aluminum is also used throughout the body of the truck. It's incorporated into the tailgate and transmission system. Despite its decreased weight, the maximum payload has gone up. The 2019 model can carry upwards of 2,320 pounds. It can tow up to 12,750 pounds when properly configured. When it comes to overall size, some of the build configurations have changed. Crew cab trucks are just under four inches longer than last year's model. There are two options available for bed length. You can get a bed that's 67.4 inches long on crew cab models or a bed that's 73.6 inches long with any other build. Stop by Wabash RAM, serving Fort Wayne Indiana, to learn more about the mechanical changes in the new 1500.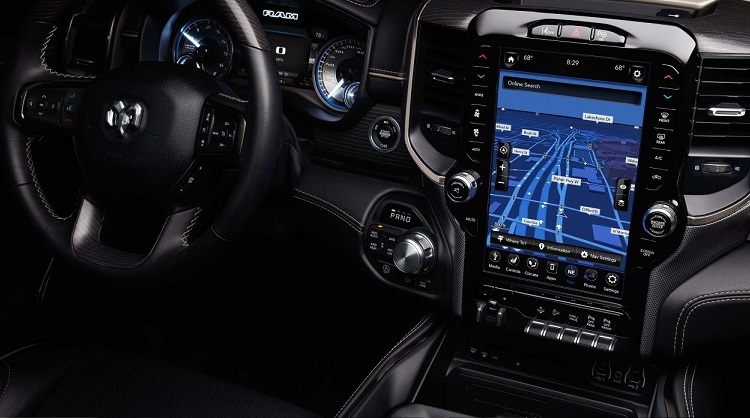 Powertrain – RAM 1500 specs near Fort Wayne IN
There are two different powertrain options for the new 1500. The first is a 3.6-liter V6 engine. Called the Pentastar, this robust engine can give you up to 305 horsepower. For even more power, the truck is available with a 5.7-liter V8 HEMI engine. It's capable of delivering up to 395 horsepower. Something new that the manufacturer has included in the 2019 model is an eTorque generator. It takes the place of the standard alternator that powers a 48-volt lithium-ion battery. It's standard with V6 engines and optional with V8 engines. The system is designed to make the truck start up faster. Additionally, it can give you a torque boost of up to 130 pound-foot depending on the particular engine you're working with.
Safety – 2019 RAM 1500 dealer
The 2019 RAM 1500 is built from the wheels up with safety in mind. Not only with the body of the truck help keep you protected in the worst-case scenario, but the brand has included many dynamic features that assist you on the road. Blind spot monitoring and lane-departure warning use sensors to let you know when potential dangers are around you. Some automatic features like Lane-keeping assist and automatic braking will make adjustments to avoid possible collisions. These features are available on most trim levels.
The new 1500 continues the lasting tradition of quality and performance that the brand is known for. This performance pickup truck is made to deliver an impressive driving experience no matter where you're going. Whether you're hauling heavy cargo for work or towing sports gear for an afternoon of fun, the 1500 can get you there safely and comfortably. To learn more about the 1500 and current Fort Wayne area specials, contact us now. We're proudly serving Fort Wayne Indiana drivers. You can save at Wabash RAM and get a brand-new 2019 RAM 1500 near Fort Wayne IN that meets your unique needs.