New Jeep 2019 Jeep Cherokee vs 2019 Chevrolet Equinox | Wabash IN in Wabash IN near Fort Wayne
2019 Jeep Cherokee vs 2019 Chevrolet Equinox | Wabash IN
2019 Jeep Cherokee vs 2019 Chevrolet Equinox
If you have decided that purchasing a five-passenger SUV is a smart move to make soon, you may have already narrowed down your options to two of the leading models on the market today. Many SUV shoppers in Wabash Indiana are drawn to the Jeep Cherokee because of its iconic status and its modern style, but the new Equinox from Chevrolet also has considerable appeal. Before you decide which of these SUVs is a suitable option for you to purchase, a closer look at the 2019 Jeep Cherokee vs 2019 Chevrolet Equinox is a smart idea. Our team at Wabash Jeep serving Wabash Kokomo Marion Indiana is ready to answer your questions and help you to make an accurate comparison.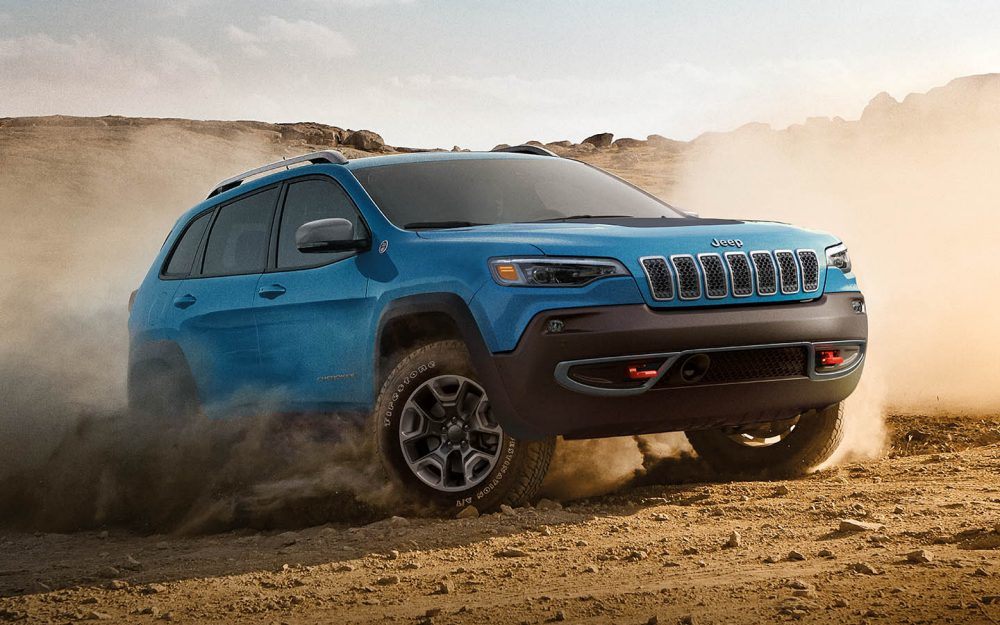 Exterior and Interior Design – Jeep Cherokee
One of the first things that you may notice when you compare the 2019 Jeep Cherokee vs 2019 Chevrolet Equinox is that the interior and exterior design of the Equinox is relatively unchanged for the new model year. The 2019 Jeep Cherokee, on the other hand, has a striking new look that will not disappoint drivers. The 2019 Chevrolet Equinox continues to have 17-inch wheels and powered side mirrors with a heating element on the base model. Higher trim levels include LED headlights, 19-inch wheels and a hands-free trunk release. The Equinox retains is grille design that has integrated headlights as well as its black molding and its steeply sloping hood. Inside, the Equinox has a sleek, modern design with a large center console and a centrally-located infotainment screen.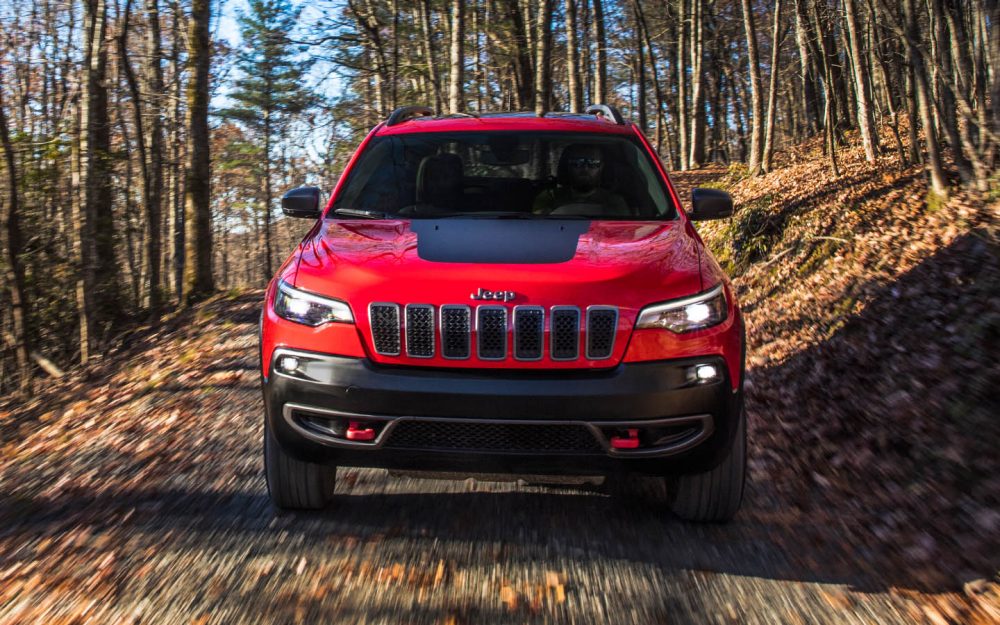 The 2019 Jeep Cherokee is on display at our dealership serving Wabash Kokomo Marion Indiana. The entire front end of the Cherokee takes on a new look that is reminiscent of the classic Cherokee look blended with modern class. The front grille is rounded, and the elongated LED headlights are integrated into the front panel rather than the grille. The hood and side panels are contoured with precision in mind, and roof racks add functionality and a sporty look to the exterior. The interior design of the Cherokee is seemingly similar to the Equinox at first glance, but a closer look reveals that the Cherokee has been designed with easy-to-use rotary knobs for the climate control system and gearshift controls. In addition, the Cherokee's gearshift knob has a more centralized location. While the dimensions of these vehicles vary, their passenger seating space is comparable.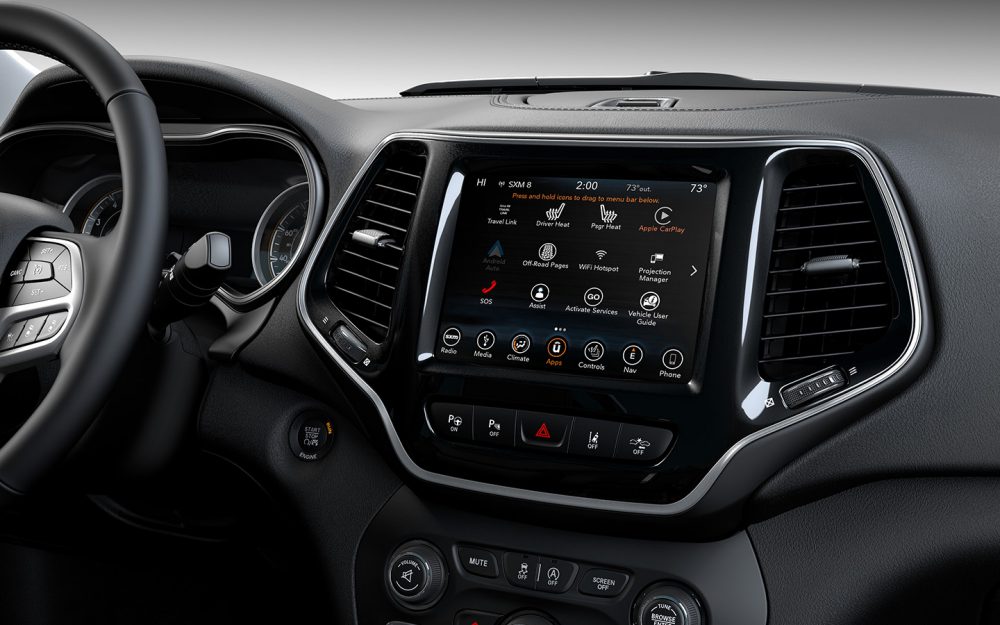 Innovative Features – 2019 Jeep Cherokee
Selecting a new SUV in Wabash Indiana requires you to get to know more about the many innovative features loaded into each model. The 2019 Chevrolet Equinox is well-equipped at the base trim level with features like Android Auto, Apple CarPlay, OnStar technology, a seven-inch infotainment touchscreen display, cruise control, power windows, power door locks and more. Its advanced trim levels include a larger touchscreen display, SiriusXM radio, a surround vision camera, a navigation system and a hotspot. The 2019 Jeep Cherokee comes with standard Nappa leather seating, chrome accents, Uconnect technology, Apple CarPlay, Android Auto, heated and ventilated front seats, power adjustable front seats, SiriusXM Guardian, a seven-inch touchscreen, integrated voice command technology, Siri technology, Bluetooth, a customizable digital instrumentation panel and more. Keep in mind that the new Cherokee is also available with many additional features at the higher trim levels. From a safety standpoint, both vehicles are similarly well-equipped with blind spot monitoring, lane keeping assistance, multiple airbags, child safety features, a rear cross-traffic alert, auto emergency braking and several other features.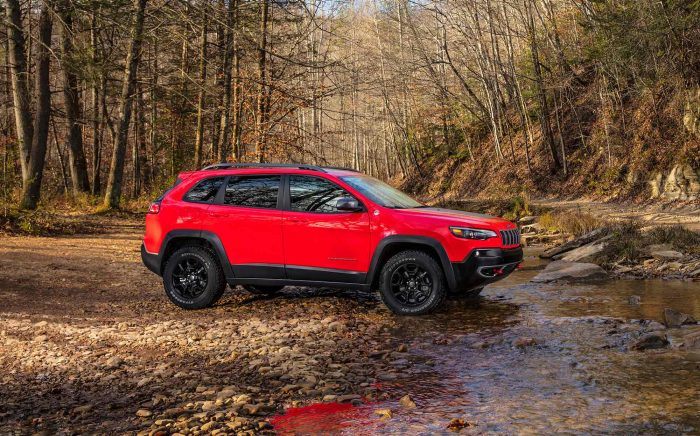 Power and Performance – Jeep Cherokee specs in Wabash
Jeep is a brand that is known for delivering a great performance on the road as well as in off-road situations, so it is not surprising to learn that the Cherokee may be a superior choice in this area. The 2019 Chevrolet Equinox has the same powertrain options as the 2018 model year offered. These options include a Turbo four-cylinder, 1.5-liter engine with 170 horsepower as well as a Turbo four-cylinder, 2.0-liter engine with 252 horsepower. The Equinox is also available in a diesel I4 option with 137 horsepower. The standard front-wheel drive in the Equinox can be upgraded to all-wheel drive, and all trim levels come with either a six-speed or nine-speed automatic transmission. As you compare the 2019 Jeep Cherokee vs 2019 Chevrolet Equinox during a test drive at Wabash Jeep, you will see that the base engine is a Tigershark 2.4-liter Multiair with 180 horsepower. At the highest level, a Turbo 2.0-liter engine offers 270 horsepower and the 3.2-liter, V6 Pentastar offers 271 horsepower. Several options with a front-wheel drive or an all-wheel drive drivetrain are available. The Cherokee is water-rated up to 19 inches of water, and it has a tight turning diameter of 38 inches for superior maneuverability. In addition, it has a superior suspension system and excellent ground clearance. Regardless of the powertrain that you select, you can see that the 2019 Cherokee is an SUV that was designed with performance in mind.
As you compare the SUV options available in Wabash Indiana this year, it is understandable why you may have initially considered the Equinox and the Cherokee to be relatively comparable. However, now that you know more about what both models offer for 2019, you can see that one vehicle is a superior option in many areas. Make plans to visit Wabash Jeep serving Wabash Kokomo Marion Indiana to test drive the new Cherokee and to learn more about the various trim levels available.