New Jeep 2017 Jeep Wrangler for Sale Wabash Indiana in Wabash, IN near Fort Wayne
2017 Jeep Wrangler for Sale Wabash Indiana
Vehicle Overview
Focused on adventure, the 2017 Jeep Wrangler for sale in Wabash is both comfortable and capable. The classic style disguises this Jeep's contemporary comforts. Shopping for a Wrangler is part of the fun. There are two body styles in multiple trim levels and special editions serving Wabash Indiana. You can go for the Willys Wheeler, the Black Bear or the Smoky Mountain Jeep Wrangler specials.
Exterior – 2017 Jeep Wrangler
The signature build is always at the core of the design. High bumpers and a raised chassis suggest the adventure capability of this fun ride. Two front and one rear tow hook imply how much tougher it is than other SUVs. You can take off the top, whether it is one of the two soft versions or a hard top in black or body color. The windshield can fold down, and the doors can come off. You can also opt for half doors with plastic windows. Jeep designs allow you to get a more customized look without endangering the valuable warranty. Since this Jeep is always looking for a challenge, foglights and skid plates are standard. Willys Wheelers have a throwback design, special decals, and high-gloss black detailing. The fun Chief special edition wears a white hard top along with special graphics and a power dome hood. The Sahara trim comes dressed with special accents too. Its 75th Anniversary edition wears a power dome hood and steel bumpers. Bronze highlights liven up the look of the 2017 Jeep Wrangler for sale in Wabash. Wearing extra black on its wheels and trim, the Rubicon Hard Rock has special rock rails to guard against debris. Xtreme Purple, Hypergreen, and throwback Chief Blue are among the unique shades in its color palette. To save money, check out Jeep Wrangler specials. Your Wabash Jeep dealership has the details on pricing and financing.
Interior – Jeep Wrangler in Wabash IN
Singles and couples may prefer the two-door 2017 Jeep Wrangler for sale in Wabash. Families will lean toward the four-door Wrangler Unlimited. Shoppers will find that both are updated for modern living. The standard Wrangler has 88 cu.ft. for four people while the bigger Unlimited has 104 cu.ft. for five passengers. The Unlimited also has a bigger hold and can expand to 71 cu.ft. with its 60/40 split rear seats. Showing its Jeep side, the center console is lockable. The cargo hold floor can washed and drained easily, allowing you to rinse the mud from gear, boots and sports equipment. Despite all of its utility, the Wrangler sees to the comfort of its riders. You can enjoy black or dark saddle leather upholstery. Heated seats and quicksilver accents are Rubicon Hard Rock standards. The available touchscreen lets you stream audio. Many trims provide a one-year SiriusXM subscription with your Wrangler purchase. To learn about Jeep Wrangler specials, please contact Your Wabash Jeep dealership online.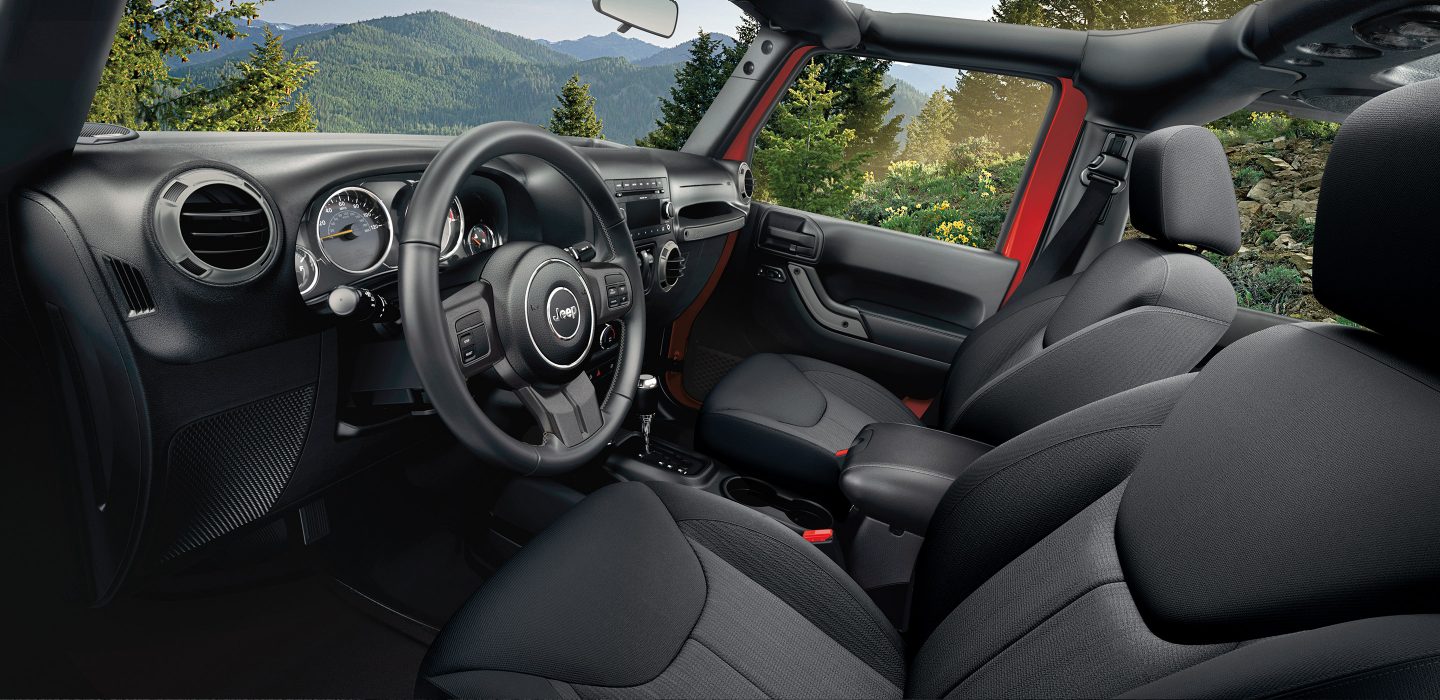 Mechanical – Jeep Wrangler specs in Wabash
A stickshift and a 4×4 drivetrain are standards across the lineup serving Wabash Indiana. However, in typical Jeep fashion, you've got choices. Drivers will like the five-speed automatic transmission, a commuter's best friend. CommandTrac four-wheel drive may be good enough for most enthusiasts, but some will want the RockTrac system with better crawl capability. Either way, these are trail-rated SUVs. Hill start assist works to control rollback when the Jeep is trying to move forward from a standstill. Hill descent control regulates travel to reduce stress on the brakes and gears. HDC helps the driver and improves safety and stability. The Rubicons TruLok differentials help direct torque to the wheels with traction. RockTrac will automatically disconnect the front sway bar when the Jeep is in 4Lo mode and traveling under 18 mph. This allows the wheels to compress for greater agility.
Powertrain – Jeep Wrangler specs in Indiana
In the Wrangler serving Wabash Indiana, your daily commute is no problem. In busy traffic, you'll be happy commanding 285 horsepower. Torque thrust is rated at 260 lb.-ft. The powertrain harnesses torque at lower speeds. This enables the Jeep to make its way forward even when gravity or a heavy load is pushing it back. This potent V6 can tow 2,000 pounds or 3,500 pounds depending on the edition. The 2017 Jeep Wrangler and Wrangler Unlimited trims serving Wabash are ready for action. It helps to take a test drive to determine which 2017 Jeep Wrangler is right for you.
Safety – 2017 Jeep Wrangler dealer
Prevention and protection are emphasized throughout the Jeep lineup. For starters, the Wrangler for sale is built tougher than the average SUV. Electronic controls regulate throttle, brakes, and more. As the system redistributes stopping power to select wheels, it creates a more stable situation. Hydraulic brake boosters encourage faster stops. Trailer sway control regulates stability when you are pulling a trailer. Rollover mitigation seeks to create equilibrium when the Wrangler for sale encounters uneven ground. Whether it's the basic 4×4 or the advanced system, four-wheel drive also ensures than the driver can stay in command regardless of road or trail conditions. Of course, the Wrangler for sale has its fair share of airbags to offer vital protection in a wreck.
The 2017 Jeep Wrangler is available now at your Wabash Jeep dealership.